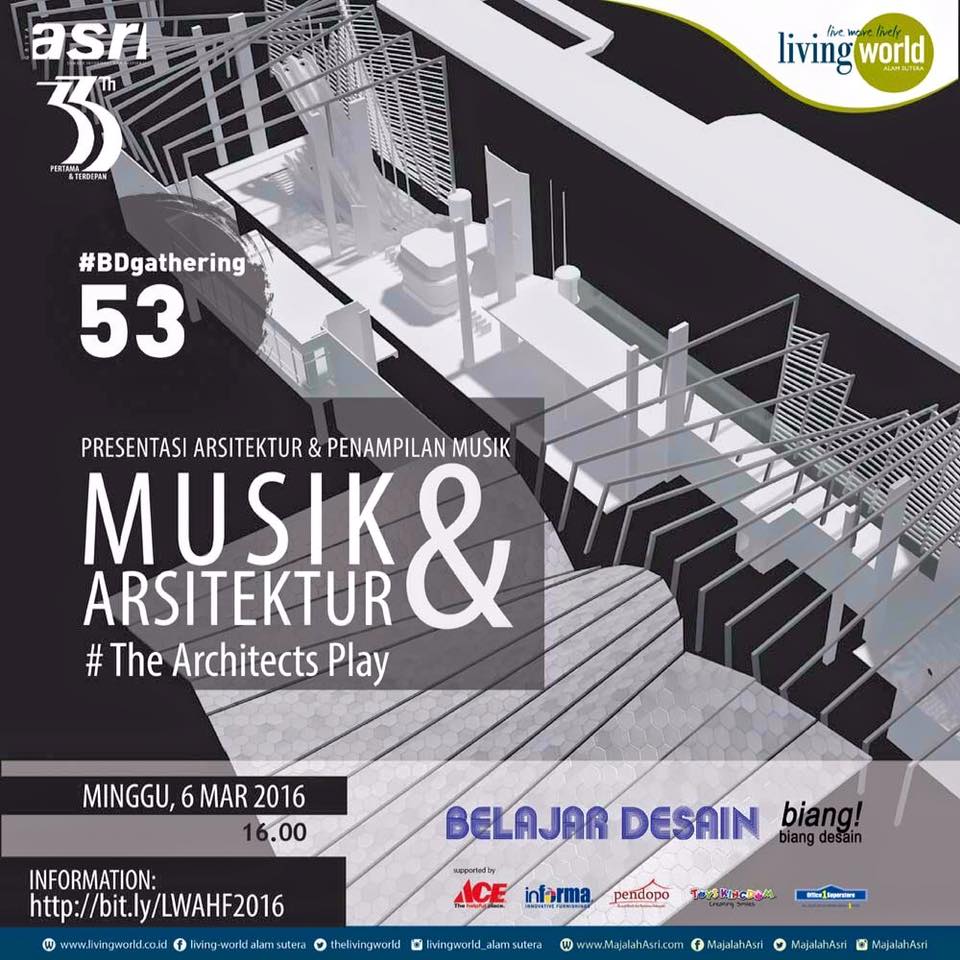 Sigit Kusumawijaya, Principal Architect of sigit.kusumawijaya | architect & urbandesigner, will perform & present with his band, The Architects Play in this event.
Below is the detail information.
————————–——

[INVITATION]
Belajar Desain (Design Learning [: designers open community]) & Biang Desain cordially presents
#BDGathering #53
PRESENTASI ARSITEKTUR & PENAMPILAN MUSIK
"ANALOGI MUSIK & ARSITEKTUR"
oleh:
The Architects Play [TAP]
TAP is:
Raul Renanda – Keyboard
Rully Tanuwidjaja – Drum
Peter Y. Gandakusuma – Guitar
Gunung Bernhard – Bass
Ariko Andikabina – Guitar
Sigit Kusumawijaya – Vocals
Sunday, 6 Mar 2016
18.00-21.00
@ Living World Asri Home Festival
West Atrium, Ground Floor, Living World,Alam Sutera
Jl. Alam Sutera Boulevard Kav. 21, Kota Tangerang Selatan, Banten 15325
FREE entry!
Location link:
https://goo.gl/maps/UFL21C3b2xM2
Info:
Facebook page: Sigit Kusumawijaya – architect & urbandesigner
Instagram: @sigitkusumawijaya
Twitter: @SIG_architect