about
[english]
sigit.kusumawijaya | architect & urbandesigner or SIG, a Jakarta (Indonesia) based architecture & urban design office, was established on October 2012. This young and emerging company is focused on design projects, writings and research of various fields: architecture, urban planning, interior design, landscape design, environment, and social community movement. Its projects both design and research studies have reached broad range coverage from local areas such as Jakarta, Surabaya, Yogyakarta, Pontianak and Semarang, to other worldwide cities such as Amsterdam, Apeldoorn, Almere, Rotterdam, Washington and Cape Town. The company which consist of talented and promising architects and designers concern on green, eco, urban farming, food security and sustainable issues relate with the architecture services in accordance with its local context towards livable cities.

[bahasa indonesia]
sigit.kusumawijaya | architect & urbandesigner atau SIG, kantor yang berbasis di Jakarta (Indonesia) pada bidang arsitektur dan perancangan kota ini, didirikan pada bulan Oktober 2012. Konsultan muda yang baru muncul ini berfokus pada proyek-proyek desain, tulisan-tulisan pemikiran ilmiah serta riset dari berbagai macam bidang seperti arsitektur, perencanaan kota, desain interior, desain lansekap, lingkungan dan gerakan sosial masyarakat. Proyek-proyeknya baik desain maupun studi riset telah mencapai cakupan yang luas dari berbagai lokasi dari yang lokal seperti Jakarta, Surabaya, Yogyakarta, Pontianak dan Semarang, hingga kota-kota dunia seperti Amsterdam, Apeldoorn, Almere, Rotterdam, Washington dan Cape Town. Konsultan ini terdiri dari arsitek-arsitek dan desainer-desainer yang bertalenta dan berpotensi yang menaruh perhatian pada isu-isu hijau, ekologi, pertanian perkotaan, ketahanan pangan dan kelestarian yang berhubungan dengan pelayanan arsitektur yang sesuai dengan konteks lokalnya untuk menuju kota yang layak huni.
team
director - principal architect
Sigit Kusumawijaya (1981) is a Nominee of Satu Indonesia Award 2011: "Indonesia Inspiring Youth", by Astra and recipient of Google Asia Pacific: Web Heroes Awards 2011 with his urban farming community movement, Indonesia Berkebun. Graduated from TU Delft (NL), majoring in Urbanism with MSc. Degree, he has finished several design projects, writings and research especially in architecture, urban planning, environment, graphic design, cinematography and music project also social community movement. Sigit has also worked for several architectural and urban design practices in several places: Jakarta, Kuala Lumpur & Rotterdam.
Read More
portfolio
All
architecture
creative
interior
research study
urban design
videography
publications
[english]
media coverage about profile, projects and activities from various scale both national and international
[bahasa indonesia]
liputan media tentang profil, beberapa projek dan aktivitas dari berbagai skala baik nasional maupun internasional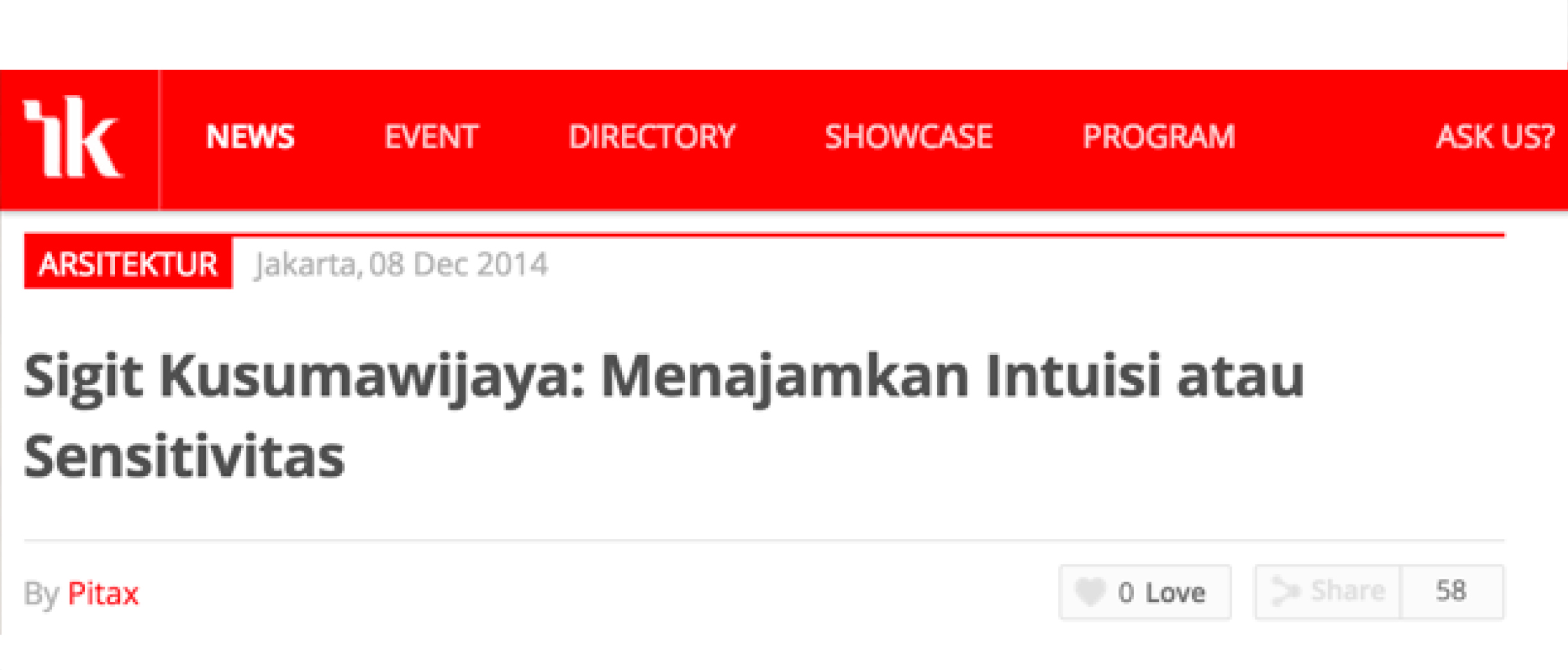 sigit kusumawijaya: menajamkan intuisi atau sensitivitas [ www.indonesiakreatif.net ]
Profile of Sigit Kusumawijaya, Principal Architect of sigit.kusumawijaya | architect & urbandesigner, was on the headline of Indonesia Kreatif web www.indonesiakreatif.net, portal about creative industry practitioners, initiated by Ministry of Tourism & Creative Economy, Republic of Indonesia.
jakarta berkebun community garden at casa goya residence [ FuturArc ]
sigit.kusumawijaya | architect & urbandesigner urban farming project was featured on FuturArc magazine, The Voice of Green Architecture in Asia, edition Sep-Oct 2014 | volume 38.
sigit.kusumawijaya | architect & urbandesigner as a Principal Architect & Landscape Designer for project of Indonesia Berkebun – IDberkebun Community Garden at Casa Goya Residence, Kebon Jeruk, Jakarta.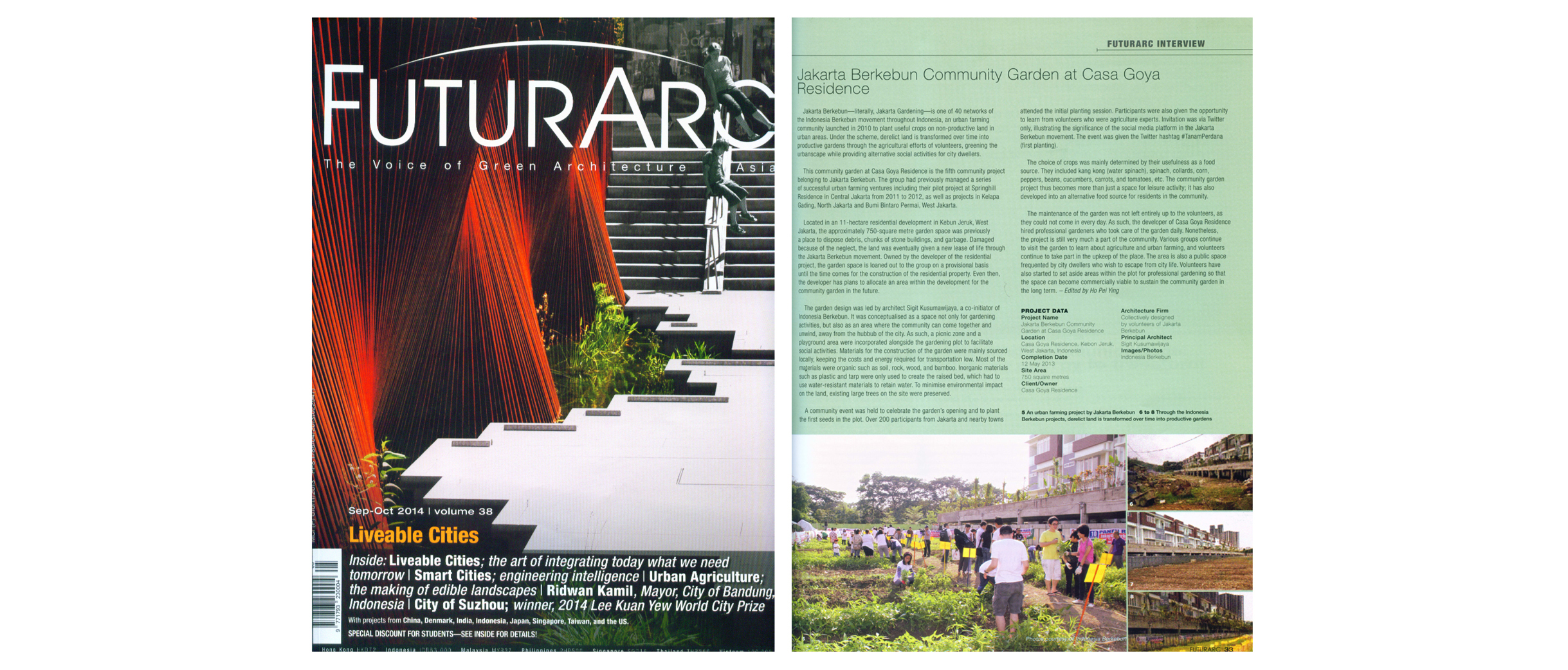 contact
.
.
.
sigit.kusumawijaya | architect & urbandesigner
architecture | interior | urban planning | landscape design | research | creative
[address] : Damar Tower 21st floor no. 21AG, Kalibata City Apartment, Jl. Kalibata Raya no. 1, Pancoran, Jakarta 12750, INDONESIA
[phone] : 0 (+62) 81222444479
[email] : [email protected]
[twitter] : @SIG_architect
[facebook page] : sigit.kusumawijaya | architect & urbandesigner