TEDx UI
event / 15 may 2011
TED (which stands for technology, entertainment, and design) is a non-profit organization, dedicated to making, "riveting talks by remarkable people, free to the world." Recently, students from Universitas Indonesia organized the first ever University-based TEDx event in Indonesia. Event co-coordinator, Salman Muhammad, wanted to bring together great minds from academia, the student body, as well as alumni who have "achieved success or have inspiring careers." He noted that, by providing a forum for exceptional individuals to share their passion, a ripple effect is created, whereby those who have been inspired to manifest their own aspirations in turn inspire others.
TED depends on the infectious nature of passion. TED's motto, "ideas worth spreading" is backed with over 600 videos of inspiring individuals made available on the web at TED.COM. The UI event showcased several of these incredible TED videos punctuated by 5 selected speakers, each with their own extraordinary story to tell. Take for instance Undergraduate Law student, Naufal Fileindi who spoke on his passion for law, and his drive to make knowledge of law accessible to everyone, but particularly to young people. He uses social media to empower an otherwise disenfranchised population, by giving them direct access to any law related questions they may have. This purposeful use of social media is one he terms "viraling law."
Metta Anggriani articulated how the practice of yoga can bring about positive social change and benefit the environment. Yoga after all is a mindful act, and by applying this heightened awareness to our everyday lives, we turn our everyday actions into choices, and choice is the impetus of change. Sigit Kusumawijaya spoke on the "creative process through social and environmental sensitivity." His short film entitled Covering the Gloominess of Jakarta Concrete invited viewers to imagine a Jakarta in which the roads and concrete structures were not consistently gray, but instead saturated in colors that evoke a happier mindset. His creative viewpoint aimed at uplifting communities through education and through envisioning new paradigms in urban planning, was one that resonated with the audience. UI marching band teacher, Teguh Darmawan's musical performance and talk was also a hit with the crowd. His humorous anecdotes and soulful trumpet performance was captivating and fun.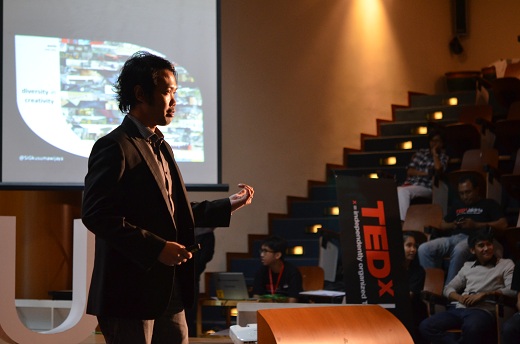 Approximately 100 people turned up for UI's TEDx event. "The audience is thirsty for this event" Salman observed. With noted alumni like Vice Principal of SMK Prisma Depok- Royhan Benasetya , Co-founder of Social Yoga Club -Yudhi Widdyantoro, and UI student and Public Relations Director of Berburu.org-Aditya Mahendra, in attendance, it was an event that is sure to have a resounding and lasting impact in many communities. Salman and his pack of socially conscious and active colleagues are already planning the next TEDx event. We can't wait.
Photos & words by Melany Zwartjes.
Published by Sub-Cult on Saturday, May 15, 2011
Link: http://sub-cult.com/daily-news/ted-x-ui.html