Preserving freshwater resources in the face of a dry spell
by: Novia D. Rulistia, The Jakarta Post, Jakarta | Feature | Tue, August 04 2015, 9:57 AM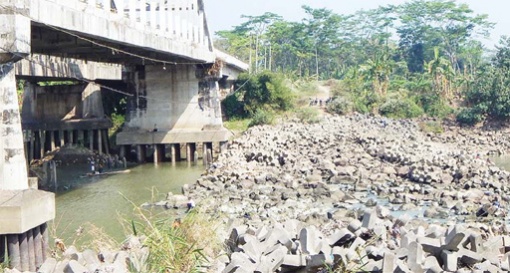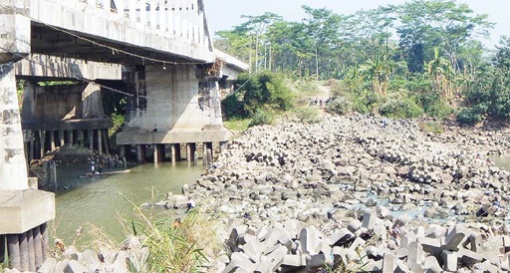 Drying up: Two men are fishing in the middle of the Serayu River in Rawalo village, Banyumas regency, Central Java. The province's biggest river has started to dry up in the past two months.(JP/Agus Maryono)
Water covers about 71 percent of the Earth's surface, making it seemingly abundant and unlimited. But actually, only a tiny amount of that water is available as freshwater that is safe to consume.
Climate change and the excessive use of water have threatened the supply of good-quality freshwater.
"In the next 30 years, climate change will get worse, the Earth will get hotter, we will have less rain and the size of our forests will keep shrinking. Those factors will make water scarcer," renowned environmentalist Emil Salim told a discussion group on water preservation recently.
The Meteorology, Climatology, and Geophysics Agency (BMKG) predicts that Indonesia will see a longer-than-usual dry season this year that will likely end in November instead of October.
The El Niño phenomenon has also contributed to a drier season this year, especially during the peak drought months of July and August, leaving thousands of residents in at least eight provinces in a clean-water crisis. This is in addition to thousands of hectares (ha) of rice fields that have dried out, according to the National Disaster Mitigation Agency (BNPB).
Emil said that because water was vital to life, everyone was responsible for taking part in preserving it to avoid a future water crisis.
"We're all part of society, and each one of us has a role in preserving water and the environment. For example, the government makes policy, people participate in taking care of the surrounding environment, and academics provide environmental management technology," he says.
Separately, executive director of Indonesian Forum for the Environment (Walhi) Abetnego Tarigan said that collaborative efforts were needed from everyone so that the country would not have to experience extreme drought each and every year.
"In the short term, the government must continue its emergency response efforts so that people will have access to clean water for their rice fields and their daily life," he says.

Hunting for blue gold: Residents gather water from a hole located in a dried pond in Pucanganom village, Wonogiri, Central Java.(JP/Ganug Nugroho Adi)
In many regions, local administrations have started to distribute clean water pumps and tanks to help residents deal with the drought.
But for the long run, Abetnego says that the government cannot only rely on emergency responses, because this will not solve the underlying problem and will only cost more money.
The government, together with the people, must increase efforts in protecting the forests, lakes and water catchment areas to ensure the availability of clean, fresh water supply, he argues.
"For now, people can't do much to deal with the drought apart from saving water. But we can start thinking of ways to save water when the rainy season comes later so that we won't have to experience a water crisis each and every year," he says.
There are so many ways for people to contribute to water preservation.
The easiest way is to be aware of water usage in every activity that we do, such as taking a bath, doing laundry or washing cars and to pledge to use the water more wisely.
"Knowing the amount of water that we use can lend us some kind of awareness of how we can better preserve our water," says urban planner and one of the initiators of Indonesia Berkebun, Sigit Kusumawijaya.
He also offers a way to create good-quality groundwater through urban farming.
"Groundwater quality in cities tends to be very poor. By converting idle lands to farming lands in the cities, we can re-fertilize the soil in the hope of improving the quality," Sigit said.

No choice: Pucanganom villagers share water for their daily activities in Wonogiri regency, Central Java, where at least seven regencies have started to face a freshwater crisis because of the dry season.(JP/Ganug Nugroho Adi)
When the soil was fertile, it could absorb rain water more effectively, thus preventing an area — or even a city — from flooding, he adds.
Abetnego says that ensuring good-quality groundwater is important as more and more people are moving to big cities.
Emil also says that some other ways for people who live in big cities to have a more secure freshwater supply is by making biopores or building rainwater containers.
To make a biopore, a person digs into the ground using a special drill to create a hole, then inserts a plastic pipe with small holes to attract maggots inside the pipe, and then fills the pipe with organic waste.
After a couple of months, the pipe should be dug out and the waste, which has already turned into compost, can be collected.
For those who live on lands that cannot access freshwater by digging it out of the soil, a creative approach must be taken.
For example, Emil says, the inhabitants of the many tiny islands in West Nusa Tenggara face water scarcity due to the type of the soil in the area.
Working together with college students, they have created a method to convert seawater into freshwater for their daily life, he adds.
"We need to have more young people, college students, who will step in and help solve water scarcity, inventing simple technologies to create more freshwater resources," he says.
Published by The Jakarta Post onTuesday, August 4, 2015
Link: http://www.thejakartapost.com/news/2015/08/04/preserving-freshwater-resources-face-a-dry-spell.html